The Kensington Ridge Farms story: A lifelong love affair
I can never forget purchasing my first horse at 23, Eddie, a palomino quarter horse gelding.  I remember Eddie well and realize today that they do not make them like him anymore!  I won't mention any names, but, that old boy won over one of the toughest vets in town.  I had him until he passed in 2014 at the age of 32.
When Eddie retired, and just prior to, he was a lovely trail horse. It was his evolution that helped my transition as well. I decided to take formal riding lessons. I started with jumping lessons and that did not go well and then I went on to try my luck with dressage. I took some lessons and it certainly peaked my interest, but I felt I needed to find a horse of my own.  I asked around and several people told me about Spanish Horses (first, I was told about Andalusians).  I was not aware they were also called PRE's.  I looked and asked around and I was unable to find any.  Then I was told about Lusitano's which I was told were very similar.
That is I how I came to meet the woman who changed everything for me.  Her name was Ingred Lin.  She was listed in a publication called the Barn Book and I gave her a call.  I explained everything to her including my lack of experience with formal riding.  She was up front with me, (which we all know is rare) and said she had a Lusitano stallion, which was promised to someone else, that would perfect for me.  She continued, I would be more than welcome to come and try him but reiterated he was promised to someone else.  She suggested that I do try the horse for two reasons.  First, she felt that if I was going to continue my search for a Spanish Horse, I should at least ride one.
(Here is something important I must point out, when I was taking lessons at the farm prior to meeting Ingred I took several bad falls for the first time ever riding.  It was not that it was the first time that I had fallen off a horse because I wasn't paying attention or because I was being foolish, it was the first time I had been repeatedly dumped by a horse during a lesson!  As a result, I had developed a fear of horses or a fear of them while riding.  However, I felt that if I had my own horse I would get over that when I learned to trust him and we bonded.)
And the Second reason, if it did not work out between the woman and the Lusitano stallion I would be able to purchase him if he and I were a good fit.  After discussing it with my husband (Tony), we both agreed that Ingred was right and we drove out to Ingred's farm in White Fences.  The horse I was going to try was named Oceano do Filhos Do Vento. He was a white 13 year old Lusitano stallion.  Ingred's working student started him for me, I know Ingred could tell I was very nervous.  I managed to put my foot in the stirrup and threw my other leg over his back and gently sat down into the saddle, the whole time my heart pounding.  I sat down onto his back my heart stopped racing immediately and I took a sigh of relief.  The horse actually calmed me down instantly. The whole time Oceano did not move he just waited for me to settle down. Even before I progressively developed my horse fear from the bad experiences with the other horses, I had never had a horse make me fell so calm so fast…. what a great feeling!
Now that I had settled down, Ingred began to give me instructions on how to ride him.  Being instructed by her was so different than the lessons I had previously.  Her professionalism, patience and her knowledge– not to mention her ability to get me to do things on the horse that I had never done.  I was happy to just leave things at walk and trot but then Ingred says "ok let's canter." Oceano was very patient.  He just waited for me to figure it out and I eventually did.  I actually didn't figure it out Oceano figured out what I was asking for and compensated for me.  I was as nervous as I could be again but the moment he picked up that canter again, I relaxed.  Ingred continued to instruct me and I was very much enjoying the lesson now she yells out do a lead change.  That was a phrase I had never heard.  I told her I did not understand what that was.  She just smiled.
The ride was over and I did not want to leave! As of that moment I completely understood the mean of "a good fit" between a horse and rider.  Riding a horse that is trained for a completive spot is different than riding a trail horse. The bond is different, and the meaning of a good fit is different, or better yet the requirement of a good fit is different.
After we left, I called Ingred and asked her if I could buy Oceano. I told her I understood that he was promised to someone else but I really liked the horse.  She was very polite and professional, but she said "No". She would not sell the horse "out from under" the other women because someone had already done that to her and Oceano was the horse that was going to replace the previous horse. I was heartbroken but impressed by here ethics and morals.
As luck would have it about a week later she called and exclaimed, "He's yours!" I couldn't believe the news. It turns out, she said that he and I were the better fit. The very next day after work I went to see him.  Not knowing the next steps, Ingred walked me through it all.  From getting a pre-purchase exam with an independent veterinarian, to drug test and x-rays. I knew I was dealing with an extraordinary woman.
That was the beginning of what was one of the most influential relationships of my life.  Even though my time with Ingred was brief,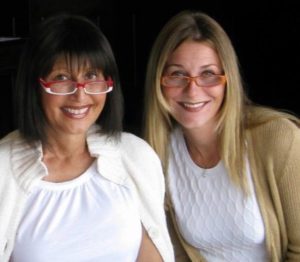 I learned a tremendous amount from her.  She started me on my path.  She was all too happy to share her knowledge with me.  She had no agenda. I always said if I ever started a farm, it would be as she did it and with her patience and ethics.
It wasn't long after meeting Ingred I learned she had been battling cancer for many years.  It was well known but I was new to the area and was unaware.  Knowing her for such a short period of time, I had a surprisingly strong reaction to learning of her illness.  I put my selfishness of not wanting to lose this strong, independent, larger than life woman behind me and chose to enjoy every minute I could with her.
Ingred had her work cut out for her I knew nothing about formal riding.  We worked hard every day.  She would ride, I'd have my lesson and we would just talk about the breed, her horses or anything related to Spanish Horses and riding.  As time went on my riding improved thanks to Ingred and Oceano.  Ingred imported Lusitano's and she had this beautiful black stallion about 6 years old.  She wanted me to ride him.  Still having a fear of other horses I did not want to.  She was trying to help me get over my fear.  The same thing happened with this young Lusitano I went to get on my heart was pounding and the moment I sat down I was totally calm.  I had a fantastic, fun ride.  I began to wonder, "Is it the breed?"  It happened again with her Competitive Grand Pix Stallion Quemacho.  She just wanted me to sit on him while she worked on piaffe from the ground.  The moment I sat down heart stopped racing.  This continued to happen over the years when I would get on horses and the only time my heart stopped racing immediately was on a Spanish Horse, it stops immediately on an Andalusian – PRE.  (It takes longer on a Warmblood and sometimes it does not stop at all) as well.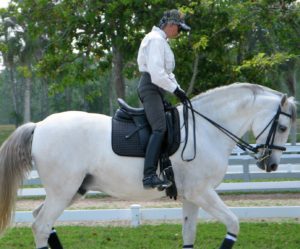 On December 17, 2009, Ingred lost her battle with cancer.  It was a devastating blow.  After mourning the loss of such a courageous and honest  woman, I finally started riding again. It was difficult and over time it did get easier but Ingred is always with me.  I miss her a lot especially when I  need guidance.
Years went by and it was time to find another stallion like Oceano.  I could not find a horse that could even come close.  I was looking for a Lusitano   and I thought lets go back to the original plan of an Andalusian – PRE and this time I had much more experience.  Part of the reason for the switch back to a Andalusian – PRE was the Import regulations.  Spain and the US have an agreement if you import a PRE virgin mare or stallion they quarantine for 4 weeks in Spain and there is no live cover involved for stallions.  I had already purchased a few horses.  Had all the knowledge Ingred instilled in me, been taken advantage of by another Lusitano seller and another trainer and also had a good experience with trainer who looked out for me on a purchase and stopped me from making a purchase mistake.  I developed a great relationship with a breeder in Spain. I had a solid support system here and I purchased my first PRE.  I told myself if this goes well in a year I am going to start importing Andalusians – PRE's and follow in Ingred's footsteps.  And here we are.  So you see it is as much about the influence of a strong, independent larger than life woman, as it is the Spanish horses.  When the import rules change about Lusitano's I hope to import them from Portugal. For now we offer Andalusian's and PRE 's–  Both breeds have their own special attributes.  You would have to own both to determine what you like about each one.  I have one of each myself, and am about to have a few more PRE's soon!
When Kensington Ridge Farms competes our first PRE Dressage Horse, our Mare, I sure hope that rider is myself,  I will be waring my good luck charm from Ingred.  It is a great feeling to have someone believe in you.  ​- Shelly Swetnam, Founder and President of Kensington Ridge Farms.